Welcome to Clear Lake Cottage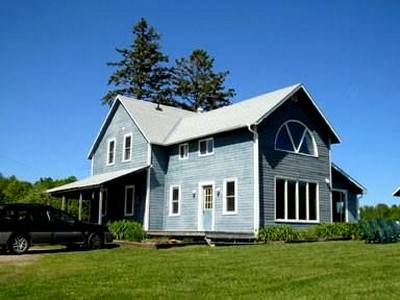 A key feature of Clear Lake Farm (CLF) is Clear Lake Cottage. The original homestead, build in the early 1900s, provides accommodation in a distinctive setting. Here, nestled between pastures, surrounded by 220 acres of fields and woods, adjacent to the lake, guests may experience the energy and life at Clear Lake Farm.

Clear Lake Cottage has been fully renovated combining historic elements with modern comfort. Today five charming bedrooms, three bathrooms, a dining room, a large living room, and a well equipped kitchen provide for a variety of uses.

Be it a Family Reunion, Birthday Party, Thanksgiving Celebration, White Christmas, New Year's Getaway, Anniversary Trip, Customized Seminar, Introduction Weekend to Icelandic Horses, Snowmobile Adventure, Indian Summer Stay, and of course a Summer Vacation Clear Lake Cottage is the ideal setting. Clear Lake Cottage is for rent to families and groups of up to 11 people year round.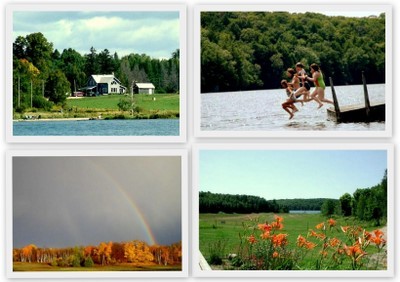 Clear Lake – now named Newell Lake - is a two minute walk from the cottage. The sandy beach, the clear and refreshing water, the floating dock a short swim from shore, the camp fire spot, the canoe and the fishing boat make for a true cottage experience.
Clear Lake Cottage in the fall

Trails lead through the neighbouring forests, through meadows and along the lake. Picturesque resting places along the trails give the opportunity to breathe in the peace and simplicity of nature. Wildlife such as beaver, raccoon, deer, chipmunk, turtle, fox, groundhog, and moose are all part of Clear Lake Farm as well as the peaceful herd of Icelandic Horses.

Clear Lake Cottage is situated conveniently close to major Ontario Federation of Snowmobile Clubs (OFSC) trails. Golfing and shopping are a 15 minute drive away. Clear Lake Cottage is a pleasant surprise any season of the year.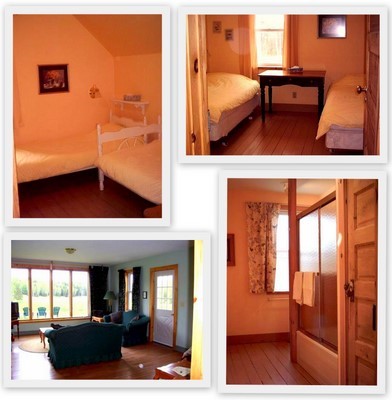 Features of Clear Lake Cottage:

* Beautiful view of the lake
* Bedding (pillows, duvet covers), sheets, linen is all provided - beds are made up
* towels (including beach towels), kitchen linen, cleaning supplies,
* TV and VCR, hair dryer, iron,
* Dishwasher, microwave, coffee maker, washing machine,
* Lawn furniture, beach furniture,
* BBQ, camp fire pit, fishing boat, canoe
* Non-smoking cottage